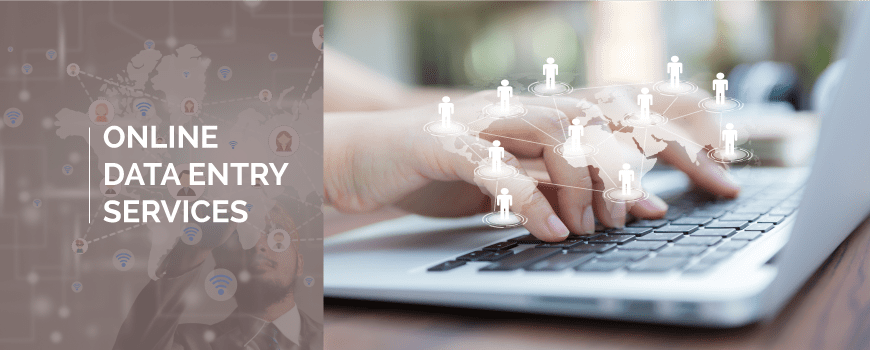 Are you looking for a reliable and invariable online data entry service provider? You have landed at the appropriate place.
Allianze BPO Services is a distinguished offshore outsourcing service provider of accurate online data entry services, catering to the comprehensive need of the clients within an affordable budget. Our team of professional and well-skilled data entry operators ensures to successfully enter the intrinsic information into the online database of a website. Also, executes the assembling of data grabbed from the various online websites with a greater efficiency.
To accomplish a progress in the business environment, a smooth functioning of the business, as well as effective management of data, should go hand-in-hand. Expert analysts believe that data is a fundamental element of every business and with the passing of each day, the volume of data gets expanded. Online data entry is one of the data entry requirements put forward by most of the small and large-scale companies.
We work round-the-clock and guarantee to streamline the online data entry process in a hassle-free method. Our substantial online data entry services offered include:
Online data capture

We effortlessly capture the essential business data from the numerous available online sources and enter them into a client-requested format.

Online image data entry

It involves the gathering of minor to a major piece of data from the input images, followed by organizing them securely in a specific format.

Online receipt/invoice data entry  

Expediting the planning of the accounting and invoicing process by inputting the data collected from the invoices and receipts.

Online order entry

Our team ensures the keying of data for various transactions including order, coupons, and subscriptions.

Online product catalog entry

Updating the online product catalogs with the essential data, images, and product descriptions/features.

Online data entry (using various input sources)

We accept any type of input files such as handwritten documents, scanned images, digital files, or hard/soft copies.

Online data entry for legal documents

We execute the comprehensive and specialized data entry for the various needs such as legal documentation or insurance claims.

Online data entry for shipping   

Our team possess the expertise in preparing the data for product registration, shipping, surveys, mailing list, shipping documents, or labels.
The process of our Online Data Entry Services
Acquiring the input files via online database/server/FTP
Data is entered online
Performing reliable quality check to eliminate the errors
After saving the final output, the client is given an access to the view the result
Online changes are made, on a request received by the client
Team Allianze BPO Services gives out a huge prominence to the data of our customers. Accomplishing an enhanced level of customer-retention is our ultimate goal. To get the best online data entry result with complete security, feel free to reach us at info@allianzebposervices.com